Teaching has always been an integral part of Jeff's musical odyssey, and he brings to it an impressive set of tools. He is fluent with all the voices of the steel orchestra and all the percussion instruments of the engine room (rhythm section), and he combines this with well honed skills in composition and arranging.

But beyond this, his patience, enthusiasm, and boundless energy for his subject have made him a well-loved and much sought-after music teacher. A credentialed music instructor, his resume includes a ten-year stint as Steel Band Director in the Jazz Studies Department at the University of California, Berkeley.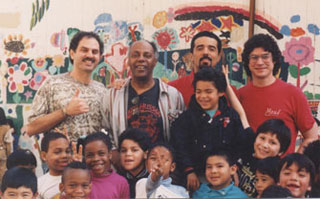 He has also traveled to major universities and school programs across the country to present clinics and performances. Bringing the steel band into public elementary and high schools as an on-going alternative music program, Jeff has opened the door for the artform to gain mainstream acceptance and continues to work with music educators to further this cause. He has innovated a teaching method for students lacking reading notation skills to fast track groups into performance mode.

Narell has also developed steel band charts across a broad range of musical genres to satisfy the widest variety of musical tastes and skill levels, with Caribbean roots music as home base.

In addition Jeff has extensive experience bringing steel pans and percussion into the workplace environment to create group teambuilding via this extremely fun and gratifying activity.